We've partnered with the Money Advice Service to bring you their State Pension Calculator. This handy retirement planning tool will help you estimate your retirement income based on your age, current savings and estimated State Pension Income
UK State Pension Calculator
The State Pension is likely to form a significant part of your retirement income, currently worth £168.60 per week. Whilst it might not be enough to provide a comfortable retirement income on its own, it's a good starting point. This tool will set a target retirement income based on your current income and help you see whether you're on track to meet your retirement target based on your current rate of pension savings and your estimated state pension entitlement.
Target Retirement Income
There are a number of ways to work out how much you'll need in retirement. This calculator works on the principle of Target Replacement Rate, which assumes that you will want to maintain a similar standard of living post-retirement as you enjoyed pre-retirement. Target Replacement Rate states that you'll need anywhere between half to two-thirds of your current income to maintain a similar standard of living in retirement. Assuming that you'll spend less on commuting and housing costs (on the basis that you will have paid off your mortgage) but you might spend a bit more on entertainment. Of course, if haven't made plans to pay off your mortgage before you retire or you are renting, you'll need to account for these costs.
Target replacement rate
How You Can Use Our State Pension Calculator
You can use our State Pension calculator to set a retirement income target and see whether you are on track to meet that with your current monthly savings. You can also see how much you could you in retirement income if you plan to retire before your State Pensionable Age.
You can also see how adjusting your retirement age might affect the size of your pension pot, since the longer you save, the more you will have in your pension.
You'll also be able to see how both of these factors affect your likely income in retirement.
Need help getting your retirement plans on track? Arrange your free introductory call with an Independent Financial Adviser today. Schedule your free call here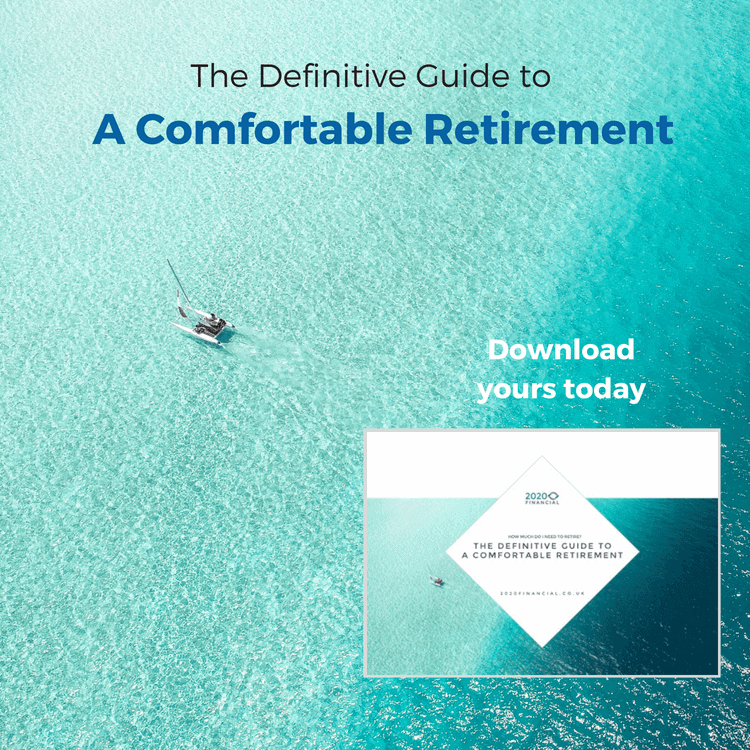 The Definitive Guide to a Comfortable Retirement
Download our free guide to a comfortable retirement to understand what is a "good" retirement income, what the experts think you'll need to retire and what current retirees spend on average for a basic, comfortable and luxury retirement.
Our specialist Financial Advisers are experts in retirement and later life planning, why not arrange a free call with a financial adviser to discuss your options. We can help you build a retirement plan based on your unique circumstances and goals.
Need help getting your retirement plans on track? Arrange your free introductory call with an Independent Financial Adviser today. Call us now to schedule 02380 981161
HOW AN IFA CAN HELP YOU
An Independent Financial Adviser can help guide you through life's major decisions in a number of areas
Retirement Planning
SIPPs, Flexible Drawdown, Tax-Free Lump Sum, let our experts talk you through your options at retirement and help you meet your goals
Wealth Management & Investments
Make your money work harder for you. Invest tax-efficiently and spread your risk effectively. Our investment experts can help you build a long-term investment plan.
Pension Transfer
Whether you're consolidating for ease, preparing for retirement or trying to reach your financial goals through a Pension Transfer, we can help. We're specialists in this field with over 15 years of expert experience, so you'll be in safe hands.
TALK TO A PENSION SPECIALIST
It should only take a few seconds to send us your details and arrange your free consultation.
Join the hundreds of happy 2020 Financial customers looking forward to their dream retirement.
This retirement and investment calculator is provided for general information purposes only. It is a guide and does not reflect the actual amount that you will need in retirement.
Any information contained within this website should not be deemed to constitute financial advice, and should not be relied upon as the basis for a decision to enter into a transaction, or as the basis for any financial or investment decision. It is provided for general information and it is vital (and in most cases a regulatory requirement) that you contact a Financial Adviser for tailored professional advice in regard to pension and retirement planning.
No individual or company should act upon such information without receiving appropriate professional advice after a thorough examination of their particular situation. We cannot accept responsibility for any loss as a result of acts or omissions taken in respect of any articles.
If you are a member of a pension scheme with safeguarded benefits, it is likely it would be in your best interests to retain the safeguarded benefits.
Make sure you understand all the risks before investing.
The value of investments and the income they produce can fall as well as rise and you may not get back your original investment. Past performance is not a reliable indicator of future results.